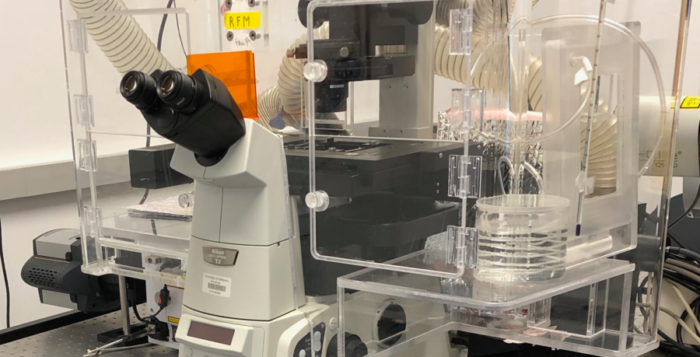 Equipment – Microscopes & Workstations
The links below lead to brief descriptions of each instrument (along with videos), but a very detailed table with specifications and usage fees can be found here:
Spreadsheet table view of all MIC equipment
The rate for External Users is 2x the published UC rate. We also have offline computer workstations for image processing. Instrument scheduling can be found on the MIC iLabs page. Please contact us with any questions or specific imaging needs.
Our equipment falls into five general categories:
CONFOCAL & MULTI-PHOTON LASER SCANNING MICROSCOPES
Zeiss LSM 880 NLO AxioExaminer with Airyscan and Coherent Chameleon Vision (Trinity)
– Ultra-sensitive, upright laser scanning confocal with 1-photon and 2-photon imaging, GaAsP detectors, 34-channel spectral imaging
– Airyscan super-resolution technology, up to 1.7-fold better resolution than standard scanning confocal microscopes
– Large motorized stage for combined electrophysiology and imaging
– 20X CLARITY objective in addition to standard objectives
Zeiss LSM 880 NLO AxioExaminer with Coherent Chameleon MPX OPO (Neo)
– Ultra-sensitive, upright confocal imaging with large motorized fixed stage
– 2-photon imaging from 700-1300 nm
– Visible lasers: 405, 458, 488, 514, 561, 591, 633nm
Zeiss LSM 780 AxioExaminer with Spectra-Physics Maitai (Rachel)
– Ultra-sensitive, upright confocal featuring 2-photon imaging with GaAsP detectors
– 34-channel spectral system with imaging in the visible range from 400-700nm; visible lasers: 405, 488, 514, 561, 633nm
– Large fixed stage for combined electrophysiology and imaging
Zeiss LSM 710 AxioObserver (Optimus Prime)
– Inverted laser scanning confocal with 34-channel spectral detection
– Motorized XY-stage for tile scan and multi-position experiments
– Live cell imaging capabilities: full incubation chamber with temperature, CO2 control and heated stage
– Lasers: 405, 458, 488, 514, 561, 591, 633nm
3i/Sutter In Vivo 2p Movable Objective Microscope with 2p Phasor SLM(Millenium Falcon)
– Dual-multiphoton Movable Objective Microscope (MOM) system uniquely designed for in vivo optogenetic studies using a Spatial Light Modulator (SLM) for stimulation at 1040nm with high-power femtoTrain laser
– Special training required.
Zeiss LSM 510 META NLO AxioImager with Maitai DeePSee (Pris)
– Upright confocal and multiphoton laser scanning microscope with a Spectra-Physics MaiTai HP DeepSee laser for 2-photon Imaging (700nm – 1020nm)
SPINNING DISK CONFOCAL MICROSCOPES
Nikon Spinning Disk Confocal (Wall-E)
– Inverted Yokogawa spinning disk confocal microscope for live cell imaging
– Nikon PerfectFocus
– Lasers: 405, 488, 561, and 637nm
– Full incubation enclosure with CO2, humidity, and heating
– Motorized XY stage
3i Spinning Disc Confocal with SLM (Enterprise)
– Upright spinning disk confocal microscope with spatial light modulator (SLM)
– Large platform, Sutter-motorized XY-stage for electrophysiology
– Ideal for zebrafish, Drosophila, and brain slice work with 1-photon or 2-photon holographic stimulation
Nikon/Andor Spinning Disk Confocal (Max)
– Inverted spinning disk confocal with a motorized XY-stage and Nikon PerfectFocus
– Full enclosure incubation chamber for humidity, CO2 and temperature control for live cell imaging.
– Andor Clara and Andor iXon cameras
LIGHTSHEET MICROSCOPES

Zeiss LightSheet.Z1 CLEARING (Morpheus)
– Selective Plane Illumination Microscopy (SPIM)
– Setup for cleared tissue imaging – CLARITY, CUBIC

Zeiss LightSheet.Z1 (Serenity)
– Selective Plane Illumination Microscopy (SPIM)
– Water-based samples only – e.g., zebrafish, tadpoles, Drosophila
EPIFLUORESCENCE MICROSCOPES


Zeiss Axio Scan.Z1 Slide Scanner(Baymax)
– 100-slide automated slide scanner for fluorescence or IHC
– Filter cubes for: DAPI, eGFP, Cy3, mPlum, Cy5
– Slide scanning service available

Echo Revolve (Bender)
Bright-field and fluorescence microscope with 10x and 20x objectives which can rotate to be inverted or upright. Super easy to use, runs on an iPad, and can be used for checking your fluorescence signals prior to confocal or slide scanning!
Nikon Widefield Epifluorescent Microscope (The Herzmark)
– Inverted compound microscope with DIC optics
– Incubation chamber, motorized stage, and Nikon PerfectFocus
– Filters: DAPI, eGFP, Rhodamine, Cy5 (?)
Zeiss AxioZoom v16 FL (Zoom)
– Macro scope with 16x motorized zoom, fluorescence, BF transmitted or reflected light
– Motorized XY-stage, ideal for multi-position or tiling
– Fluorescent illumination with the following filter cubes: DAPI, eCFP, eGFP, eYFP, and mCherry
Leica M205 Fluorescent Stereoscope (Johnny-5)
– Fluorescent stereoscope ideal for screening and dissections
– Filter cubes: CFP, GFP, YFP, and DS-Red
– Not equipped with a camera – for screening only.
COMPUTER WORKSTATIONS
DeepThought
– Windows workstation with GPU processor and SSD hard drives for faster processing and rendering
– Software: Bitplane Imaris, Zeiss Zen, FIJI, Matlab, Adobe Suite
Morpheus Processing Workstation(s)
– Windows workstation with GPU processor for faster processing and rendering
– Software: arivis Vision4D, Zeiss Zen, FIJI
Serenity Processing Workstation
– Windows workstation processing lightsheet data
– Software: Zeiss Zen, FIJI
Hal-9000
– MacPro for offline analysis
– Matlab, FIJI, Adobe Suite, Microsoft Office