Our Mission
The UC Berkeley Cancer Research Laboratory (CRL) was founded in 1951. Since then, our mission has been to support fundamental cancer research on the UC Berkeley campus. Our goal is to provide world-class scientists at Berkeley with resources and facilities that will help them in their ambitious quest to develop novel therapeutic approaches to cancer.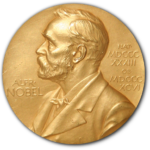 Jim Allison, former director of the UC Berkeley Cancer Research Lab, has shared the 2018 Nobel Prize, for his work on immunotherapy done at Berkeley in the 1990s. Congrats Jim! See the back story below…and the UC Berkeley News story here:
Success story
Yervoy (Ipilimumab)

One of our major successes has been the development of a novel approach to cancer treatment called "checkpoint blockade". This novel approach was innovated at Berkeley in the Cancer Research Lab by Prof. James P. Allison and was just announced as the Breakthrough of the Year (2013) by Science magazine. Dr. Allison's work led to FDA approval of a breakthrough drug for cancer called Yervoy (Ipilimumab). This drug, and others like it in the pipeline, have changed the face of cancer therapy — and it all started here at Berkeley in the CRL.
Support the CRL
Because of significant funding cuts at the National Institutes of Health, it is increasingly difficult for researchers to pay for the fundamental research that is necessary to research the next breakthrough.
Facilities
The CRL provides Berkeley researchers access to cutting edge technology that makes their breakthrough research possible. We support this technology in three separate Core Facilities: