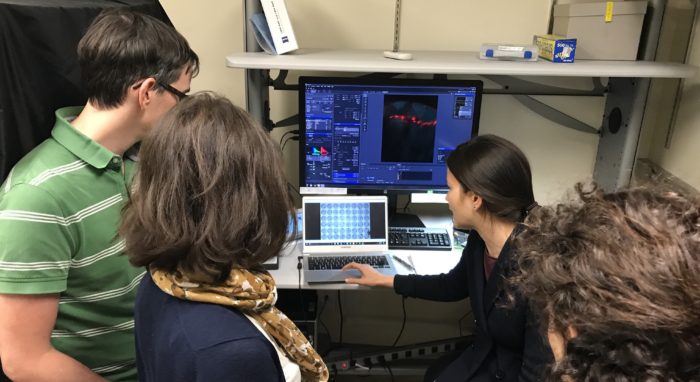 The MIC organizes 2 annual events per year: the Advanced Imaging Methods Workshop and the 4D Advanced Microscopy of Brain Circuits Course.
Advanced Imaging Methods Workshop (AIM)
AIM is a 3-day conference focused on new and emerging optical microscopy technologies and applications with a special focus on time-resolved techniques. This workshop brings together internationally-renowned researchers in a wide variety of fields, including biology, chemistry, physics, engineering, and optics. Past speakers have included 5 Nobel Laureates: Roger Tsien, WE Moerner, Stephen Hell, Eric Betzig, and Steven Chu.
AIM is currently seeking corporate sponsors. To help make AIM possible, please email Holly Aaron.
The 15th Annual Advanced Imaging Methods Workshop will be held January 24-26, 2018
Stayed tuned for more information!!
Last year's AIM information, can be found here: AIM website.
4D Advanced Microscopy of Brain Circuits Course
A collaborative effort between the CRL-Molecular Imaging Center, the Helen Wills Neuroscience Institute, UC Berkeley faculty and graduate students, and Zeiss Microscopy, the inaugural 4D Advanced Microscopy in Brain Circuits course, held from January 10-15, 2016, was a huge success! Sixteen students from around the country participated in lectures and hands-on labs where they had access to state-of-the-art instruments.
The 2017 course was May 21-27, 2017. More information here: official course website.